What does this new minimally-invasive technique mean to you?
It means an immediate actual LIFT that does not require surgery.
In one simple short office procedure of about 45 minutes, you can walk out looking like you did years ago.
InstaLift Simplified
Very fine biodegradable sutures are placed deep into the skin. The suture design allows Dr. Jeffrey Hick to reposition sagging tissue in the mid face toa higher, more youthful position. The results are immediate. The treatment is not painful. Your lift should last about 18 months.
Atthis time, the FDA has approved InstaLift for the midface, so you can expect improvements for both cheek area and jowl.
What are the sutures made of and are theysafe?
Silhouette InstaLift is made from Polyglycolide/L-lactide (PLGA), which has a long history of use as a well-tolerated, resorbable suture. The suture design was developed by scientists in the USA using reconstructive and aesthetic surgical expertise.
What do the cones do?
The suture acts as scaffolding under the surface of the skin to lift sagging soft tissues. The cones both hold the threads in place, and in time stimulate the body's production of collagen to replace depleted facial volume which diminishes with age.
Why Silhouette InstaLift?
Immediate lifting effect
Progressive restoration of the body's own lost collagen
Entirely re-absorbable material
Non-surgical technique
Minimally invasive procedure
Minimal recovery time
Natural looking
How much lift can I expect?
Your level of lift will be determined by your level of skin laxity, and the number and location of sutures placed.
Sagging skin is one of the major contributors to an aged and tired appearance. Silhouette InstaLift is a simple in-office procedure to re-contour your face by lifting the deeper layers of your skin for a more youthful appearance.
Dr. Pilest has received comprehensive training on this breakthrough anti-aging treatment and can answer all your questions about the procedure during your consultation. Ask for your InstaLift consultation.
How It Works
Silhouette InstaLift™ sutures are made in the U.S. from glycolide/L- lactide (PLGA), a commonly used biomedical co-polymer that is well tolerated by the body. The fully resorbable sutures lift and reposition subdermal tissue while the resorbablebi-directional cones hold the sutures and facial skin in an elevated position. Over time the implanted PLGA suture and cones also stimulate collagen production to help increase and restore volume to the mid-face for natural-looking, long-lasting results.
What happens during an InstaLift treatment?
Dr. Hick will insert the patented Silhouette InstaLift sutures to lift the deeper layers of the skin in your mid-face or cheek area. The treatment does not require general anesthesia or stitches. Localized numbing is all that is needed for a comfortable procedure.
No cutting?
Only a single needle entry point is required for each thin filament. There is no cutting or stitches. You will see results right away and the recovery time is minimal.
The unique Silhouette InstaLift sutures will naturally be absorbed by your body. There is also a production of collagen to aid in healthy skin renewal for natural-looking, long lasting results.
Before & After Silhouette InstaLift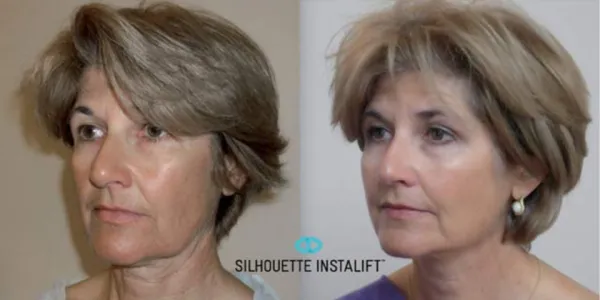 ---
Frequently Asked Questions
Q. Is Silhouette InstaLift™ FDA cleared?
The product earned FDA-clearance in April 2015.
Q. Who is a good candidate to have a Silhouette InstaLift procedure?
Silhouette InstaLift is the ideal minimally-invasive solution for many men and women who are interested in refreshing their appearance without major surgery, injections or lasers. It offers a new and unique technology to lift sagging facial skin.
Q. What are Silhouette InstaLiftsutures made of?
Silhouette InstaLift sutures are made from glycolide/L-lactide (PLGA), a polymer that is frequently used in medical devices and is well tolerated by the body. The fully resorbable sutures have bidirectional cones that provide both lift and excellent anchoring to the subcutaneous tissue.
Q. What can Silhouette InstaLift doto improve my appearance?
Sagging facial skin is one of the major contributors to an aged and tired appearance. Silhouette InstaLift is a minimally-invasive procedure that enhances the contours of your face by lifting the deeper layers of your skin for a more youthful look.
Q. What areas of the face doesSilhouette InstaLift™ treat?
The procedure lifts and helps increase volume and restore contours to the mid-face and cheek area.
Q. How is the Silhouette InstaLift procedure performed?
During the in-office procedure, a specially-trained physician will begin by marking the areas of desired lift on the patient. He /she will then gently insert a needle to a depth of 5mm and guide it through the subcutaneous tissue and extract at each bi-directional exit point. The sutureshave bidirectional absorbable cones that hold them in place. The treatment is well tolerated by patients and typically takes 45 minutes.
Q. Is general anesthesia required?
No. Your physician will only use local anestheticto numb the area before inserting the sutures.
Q. How is Silhouette InstaLift different from Thread Lifts?
Silhouette InstaLift is an entirely new technology and procedure. Rather than temporarily moving the surface of the skin with hooks and barbs, InstaLift™ repositions the underlying layers of the skin withour patented bi-directional cones. Another very important advance is that InstaLift is fully resorbable and thus not permanent. As the InstaLift™ sutures and cones are resorbed, they stimulate collagen renewal, which helps increase and restore volume to the mid-face for natural-looking, long lasting results.
Q. Where can I have Silhouette InstaLift performed?
Silhouette InstaLift is only performed by qualified physicians who have undergone special comprehensive training. We now offer Silhouette InstaLift in our practice.
Is InstaLift the same as Thread Lift?
No. In the past decade(up until about 2009), suture lifts known as Thread Lift (under additional terms) used barbed permanent sutures. The design of the barbed suture did not provide adequate holding power and would sometimes fail or"snap" since the barbs were essentially cuts into the suture material itself. This older procedure was removed from the market. InstaLift uses biodegradable sutures with soft cones which dissolve over time and also insure the lift power your skin needs.