All our professionals at Aesthetic Dermatology & Laser Center maintain the highest levels of accreditation and pursue ongoing education to stay abreast of the latest trends in dermatology.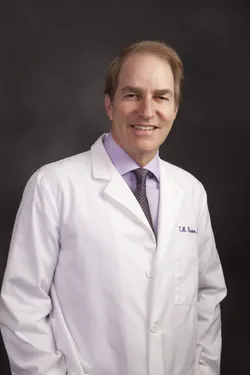 Edward M. Kramer, M.D.
Dr. Kramer specializes in a wide variety of Dermatologic procedures including skin cancer surgery utilizing Mohs surgery, mole removals, laser resurfacing of scars and wrinkles, laser removal of broken blood vessels, brown spots and stretch marks, laser hair removal, laser acne treatment, sclerotherapy for leg veins, Botox, Dysport, Xeomin, Restylane, Juvederm, Radiesse and Sculptra treatments for wrinkles, chemical peels and tumescent liposuction. Dr. Kramer has performed over 12,000 cases of Mohs surgery and is strongly committed to the comprehensive and optimal treatment of skin cancers, with a focus on achieving superior cosmetic outcomes.
We also offer CoolSculpting treatments to freeze away unwanted fat and are now performing ThermiTight for neck looseness, ThermiSmoothe for eyelid wrinkles and ThermiVa for vaginal skin rejuvenation.
These procedures are all performed in our office.
Group Practice/Hospital Affiliations
Mission Hospital, West Anaheim Medical Center, Lakewood Regional Medical Center
Office Hours:
Laguna Niguel: Every other Tuesday 9:00 am - 2:00 pm, Wednesday 9:00 am – 5:00 pm, Friday: 9:00 am – 4:00 pm
Anaheim: Mondays 9:00 a, - 5:00 pm, Every other Tuesday 9:00 am - 1:00 pm, and Thursdays 9:00 am- 4:00 pm
Membership Status
Dr. Kramer is a fellow of the American Academy of Dermatology, the American Society for Dermatologic Surgery, the American Society for Mohs Surgery and the American Society of Laser Medicine and Surgery.
Education:
Edward M. Kramer, M.D., is a board-certified dermatologist with practices in Laguna Niguel and Anaheim, California. He received his B.S. and graduated cum laude from the University of Michigan. He then pursued research and graduate studies at the Rackham School of Graduate Studies, also at the University of Michigan. Dr. Kramer received his medical degree from Georgetown University School of Medicine, graduating with class honors. He performed his internship also at Georgetown University in the Department of Internal Medicine. He completed his residency in Dermatology at George Washington University, serving as Chief Resident in his third year.
Publications:
Gill SP, Bierwaltes WH, Ice RD and Kramer EM: Localization of Radiolabeled Phosphates in Breast Carcinoma AM ASSOC CAN RES 71: 106-107, 1976.
Rotman HH, Ikeda, Chiu CS, Kramer EM and Aminoff D: Resistance of Red Blood Cell Membranes to Oxygen Uptake. J APPL PHYSIOL 49(2): 306-310, 1980
Alam M, Gladstone HB, Nouri K, Spencer JG, Smith K, Murphy J and Kramer EM: ASDS Guidelines of Care: Injectable Fillers Dermatol Surg 2008;34:S115-S148
Associations and Fellowships
---
Jeffrey M. Hick, M.D.
Education
University of Southern California
Los Angeles, CA
Dermatology Residency, PGY
2-47/09-6/12
University of Utah
Salt Lake City, UT
Preliminary Internal Medicine Internship, PGY
16/08-6/09
Wake Forest University School of Medicine
Winston-Salem, NC
Medical Doctor Degree
7/04-5/08
Ruth L. Kirschstein National Research Service Award
Alpha Omega Alpha Honor Society 2007
Brigham Young University
Provo, UT
Bachelor of Science in Exercise Science
8/98 - 4/04
Graduated magna cum laude, 3.93 GPA
Trustees Full Academic Scholarship
Cougar Club Scholar Athlete
Office Hours
Laguna Niguel: Monday 9:00 am- 5:00 pm, Thursday 9:00 am- 5:00 pm
Anaheim: Tuesday 9:00 am- 5:00 pm
Board Certification and Professional Licenses
Diplomate, American Board of Dermatology - Awarded 7/2012
Physician and Surgeon: The Medical Board of California
#110433
Issued 12/2009
HOSPITAL AFFILIATIONS
Volunteer Clinical Faculty at Los Angeles County/University of Southern California Medical Center 2012-current
PROFESSIONAL MEMBERSHIPS
American Academy of Dermatology, American Society for Dermatologic Surgery, American Society of Mohs Surgery Dermatology Foundation
HONORS AND AWARDS
Outstanding Teaching Award- University of Southern California Department of Dermatology 2017

Top Dermatologist in the Los Angeles, CA Region Top Doctor Competition, Winter 2013 HealthTap
Chief Resident, LAC/USC Department of Dermatology 2011-2012 Alpha Omega Alpha Honor Society 2007
Ruth L. Kirschstein National Research Service Award 2005
BIBLIOGRAPHY JOURNAL ARTICLES:
Yentzer BA, Hick J, Reese EL, Uhas A, Feldman SR, Balkrishnan R. Acne vulgaris in the United States: a descriptive epidemiology. Cutis. 2010 Aug;86(2):94-9.
Yentzer B, Hick J, Williams L, Inabinet R, Wilson R, Camacho FT, Russell GB, Feldman SR. Adherence to a topical regimen of 5-fluorouracil, 0.5%, cream for the treatment of actinic keratoses. Archives of Dermatology. 2009 Feb; 145(2): 203-5.
Hick J, Feldman SR. Eligibility Creep: A cause for placebo group improvement in controlled trials of psoriasis treatments. Journal of the American Academy of Dermatology. 2007 Dec;57(6):972-6.
Ma J, Shen J, Garrett JP, Lee CA, Li Z, Elsaidi GA, Ritting A, Hick J, Tan KH, Smith TL, Smith BP, Koman LA. Gene expression of myogenic regulatory factors, nicotinic acetylcholine receptor subunits, and GAP-43 in skeletal muscle following denervation in a rat model. Journal of Orthopedic Research. 2007 Nov;25(11):1498-505
ABSTRACT:
Garrett JP, Sierpinski P, Ma J, Burnell J, Lee SJ, Hick J, Smith TL, Koman A, Atala A, Van Dyke M. Peripheral Nerve Regeneration through a Nerve Conduit Using a Self-Assembled Keratin Hydrogel Matrix in an Animal Model. Journal of Reconstructive Microsurgery. 2006; 22 DOI: 10.1055/s-2006-955159.
SCIENTIFIC PRESENTATIONS:
Hick J. "Cosmetic Correction of HIV-Associated Lipodystrophy". Cosmetic Surgery Forum. Las Vegas. December 1, 2011.
Hick J, Park J. "Bullous Mastocytosis". Los Angeles Metroderm Society, Los Angeles, CA. November 15, 2011
Hick J, Hick R. "Dendritic Cell Neurofibroma with Pseudorosettes: A Distinct Histological Variant" American Society of Dermatopathology, Seattle, Wa. October 20, 2011.
Hick J, Compoginis G. "Erythema Nodosum Leprosum" California Society of Dermatology and Dermatologic Surgery, San Diego, CA. September 17, 2011.
Hick J, Takahashi S. "Cocaine-induced Vasculitis" Los Angeles Metroderm Society, Los Angeles, CA. February 22, 2011.
Hick J. Ram, R. "Primary Congenital Lymphedema" Pacific Dermatology Association. Pasadena, CA. August 15, 2010.
Hick J. DeClerck B, Kim G, Peng D. "Nasal-type NK/T Cell Lymphoma" Caribbean Dermatology Symposium. Fajardo, Puerto Rico. January 21, 2010.
Hick J. DeClerck B, Kim G, Peng D. "Nasal-type NK/T Cell Lymphoma" Los Angeles Metroderm Society. Los Angeles, CA. November 24, 2009.
Hick J. "Telangiectasia Macularis Eruptiva Perstans" Coastal Dermatology Symposium. San Diego, CA. October 2, 2009.
---
Julie Kramer, PA-C
Julie Kramer is a board certified Physician Assistant who is trained in medical, surgical and cosmetic dermatology. Julie takes pride in delivering care with compassion and has excellent attention to detail. She believes skin appearance and self-esteem are directly correlated and loves helping patients heal their skin to live happier lives.
Julie specializes in a range of dermatological conditions and procedures including but not limited to: mole removals, acne, eczema, psoriasis, hair loss, Mohs skin cancer surgery, laser resurfacing of wrinkles, brown sun spots and rosacea, PRP for hair loss, chemical peels, CoolSculpting, laser hair removal, ThermiSmooth and Botox injections.
Julie graduated cum laude from George Washington University and earned her Masters in Physician Assistant studies from Western University of Health Sciences; she is a member of the Society of Dermatology Physician Assistants.
Office Hours:
Anaheim: Monday, Tuesday and Thursday 9:00 am - 5:00 pm
Laguna Niguel: Wednesday 10:00 am- 5:00 pm, Friday 9:00 am- 4:00 pm
---


---